A kickboxer Olympic Champion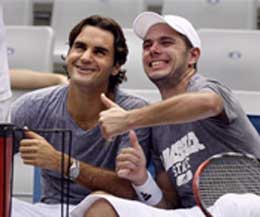 ---
Stanislas Wawrinka
and Roger Federer Gold Olympic medal in tennis.
A kickboxer Olympic champion

Stanislas Wawrinka (ATP 9) and Roger Federer (ATP 2 – number one for nearly 5 years!) have won the tennis gold medal (double) for Switzerland. This victory is the fist Olympic gold medal
won by a kickboxer! How come?
Having friends like Olivier Muller (WKN honorary president), Carl Emery (former professional undefeated World champion and sports promoter) and Jean-Marc Tonus (one of the first professional
European World champions ever in 1987 and coach of Carl Emery), is not the only links Stan "The Man" has with kickboxing.
Stan Wawkrinka has been training in kickboxing with Jean-Marc Tonus himself! No doubt that practising kickboxing has helped him to be physically fit and mentally stronger!
Keep on kicking, Stan! And thank you so much for this wonderful Gold Medal!
Envie d'essayer ?
Vous voulez découvrir à quoi ressemble un cours, à quoi ressemble la pédagogie de nos enseignants ? Aucun problème ! Nous sommes présents tout au long de l'année pour vous accueillir, vous guider et vous faire découvrir gratuitement toutes nos activités !
Venir faire un cours gratuitement