Carl Emery Visits Belfast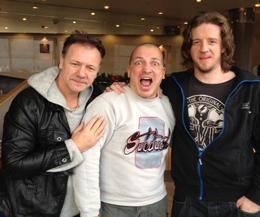 ---
Carl Emery Visits Belfast
Carl Emery a former Swiss World Kickboxing Champion and long time friend of fellow world beater Billy Murray was visiting Belfast today as the two friends alongside Belfast based web developer Daryl Campbell are currently working on a project that could help shape the face of world kickboxing for the future.
As most people already know, any and all fight information on professional boxers can be found on BoxRec but as of late, no such forum for kickboxers exists. This however is soon to change.
2011 has been a massive year for kickboxing on the world stage and as the sport continues to grow, so must the underlying technological requirements be met. 2011 was the year that saw the creation of the first ever World Kickboxing Forum at which all the heads of every major kickboxing governing body across the globe gathered together to start the process of working together for the good of the sport. A feat not seen by many combat sports.
One of the topics discussed was the creation of a database for all competitive kickboxers that can be used and updated as the fighter's career progressed, as to bring some order to the system of creating matches. Carl Emery, the creator of Pantheon Sports and the organiser of the World Kickboxing Forum will continue to workm alongside Murray and Campbell to create just that.
More news from this exciting story will appear as it develops right on www.ChampionsPantheon.com
Envie d'essayer ?
Vous voulez découvrir à quoi ressemble un cours, à quoi ressemble la pédagogie de nos enseignants ? Aucun problème ! Nous sommes présents tout au long de l'année pour vous accueillir, vous guider et vous faire découvrir gratuitement toutes nos activités !
Venir faire un cours gratuitement