KICKmas Box Mania 2008 - Billets en vente!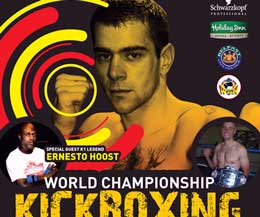 ---
KICKmas Box Tickets are on sale now
KICKmas Box Mania Tickets

Tickets are now on sale for the biggest Kickboxing event to hit the Emerald Isle. To date there are 5 world titles, 1 European title, a mini 4 man super heavyweight style event, 1 British title
and 2 Irish titles. This is undoubtedly the best stand-up fight night around. Tickets are selling incredibly well and there is 3 months to go.
Ticket information for Belfast's Kickboxing Mania -
Pricing Structure is as follows: From £15 to £50 for Ringside
RINGSIDE £50.00
Block X RingSide Block A Rows 1 & 2 Centre only
£35.00 Choir Block A Row 1-7 (1 & 2 sides only) Block K Block V
£25.00 Block A Rows 8-12 Block G Block E Block C Block J
£20.00 Block B Block F Block L Block U
£15.00 Block T Block M Block N Block S Block P Block R Block Q
Wheelchair Spaces
£12.50 Block A Block E Block G
Concessions apply to Children Under 16 and Seniors over 60 only
Click for Tickets Tickets for - Belfast
Kickboxing Mania will go on sale Monday 25th August 2008 - 9am
Envie d'essayer ?
Vous voulez découvrir à quoi ressemble un cours, à quoi ressemble la pédagogie de nos enseignants ? Aucun problème ! Nous sommes présents tout au long de l'année pour vous accueillir, vous guider et vous faire découvrir gratuitement toutes nos activités !
Venir faire un cours gratuitement