The FANTASTIC FOUR strike back! - historical ceremony in Geneva (Switzerland)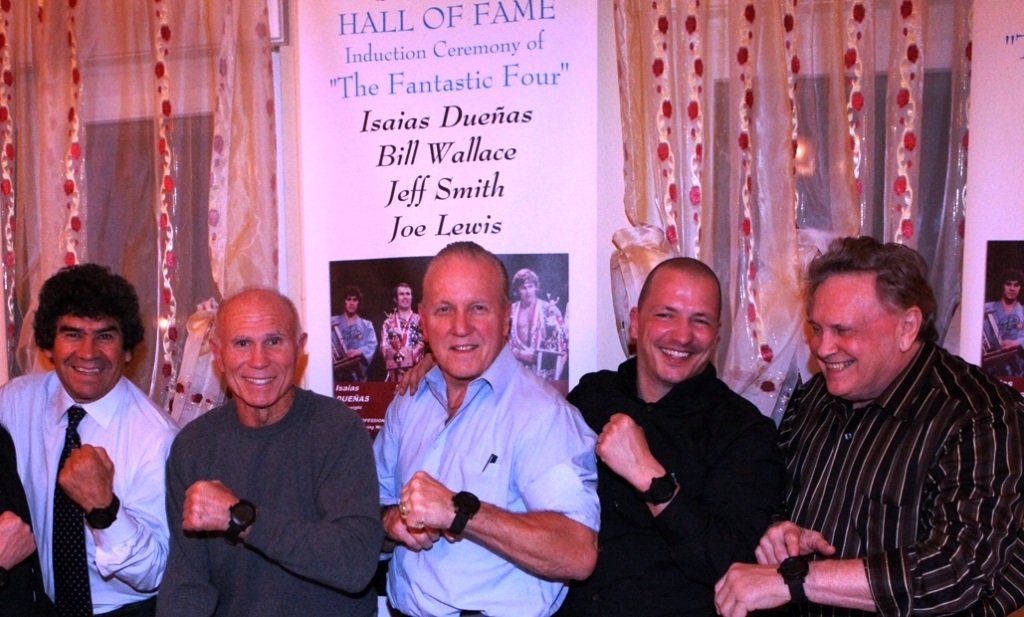 ---
The FANTASTIC FOUR strike back! - historical ceremony in Geneva (Switzerland)
September 14th, 1974, Los Angeles Sports Arena, California (USA). Date of the first World kickboxing championships (at that time called full contact karate).
The four first World Champion have just been crowned :
Isaias Dueñas (Mexico) - lightweight
Bill Wallace (USA) - middleweight
Jeff Smith (USA) - light-heavyweight
Joe Lewis (USA) - heavyweight
Since this very historical moment, these pioneers of kickboxing have not met again, the four of them altogether.
37 years later, Carl Emery (Switzerland) - founder of the PANTHEON OF SPORTS AND MARTIAL ARTS has made a dream come true : having the "Four First Heroes of Kickboxing" together again!
The Fantastic Four were inducted into the Hall of Fame of the PANTHEON, last Saturday in Geneva, Switzerland.
A commemoration plaque and a wonderful USD 3'500 Black Belt Watch were presented by Carl Emery to his childhood heroes.
Carl Emery said : "This moment is very special. Can you imagine? These four pioneers launched a new sport that is now recognised and practiced all around the World. This is unique. I am very proud of having been able to reunite them. Especially since I knew that Joe Lewis had a brain tumour last Summer, which made us realise how special and precious this event is. I am particularly happy because they have accepted to support some initiatives of the PANTHEON. I will be able to tell you more about it very soon."
The PANTHEON OF SPORTS AND MARTIAL ARTS was founded for promoting ethics and morals within martial arts and fighting sports. Famous and incontestable celebrities have been and will be inducted into the Hall of Fame. The latest champion was Marvelous Marvin Hagler himself who will be in charge of the boxing division!
The PANTHEON has already achieved incredible successes, like the World Kickboxing Forum where the main kickboxing sanctioning bodies sat around the same table to talk about the future of the sport. Another example is the upcoming launch of a "World fighters and results database" for all styles of full contact kickboxing (kickboxing, muay thai, etc.).
Envie d'essayer ?
Vous voulez découvrir à quoi ressemble un cours, à quoi ressemble la pédagogie de nos enseignants ? Aucun problème ! Nous sommes présents tout au long de l'année pour vous accueillir, vous guider et vous faire découvrir gratuitement toutes nos activités !
Venir faire un cours gratuitement