Bonne nouvelle pour Ian Young!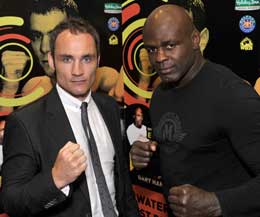 ---
Ian Young est de retour!
"260" />
Ian Young Gun: Is Back! Ici en photo avec Ernesto Hoost lors de la conférence de presse pour le lancement du Kickmas Box Mania de décembre prochain. La star de Belfast de kickboxing,
Ian Young, a reçu le feu vert pour reprendre l'entraînement. Quelques semaines après avoir appris qu'il devrait peut-être mettre un terme définitif à sa carrière en raison d'une suspicion de vertêbre
fracturée, le champion d'Europe amateur des superwelters est rassuré. Il retrouvera le ring!
L'ancien footballeur professionnel a été forcé de cesser toutes activités physique durant trois semaines dans l'attente des résultats d'un IMR.

"J'aurais pu embrasser le médecin lorsqu'il m'a annoncé que tout était OK!" a déclaré le kickboxeur âgé de 30 ans. "Je craignais que je ne pourrais plus jamais faire de
compétition, voire même m'entraîner. Le sport a toujours occupé une place centrale dans ma vie. Cela aurait été très difficile de l'accepter pour moi. Il semblerait que le mal dont je souffre soit
plutôt d'origine musculaire. Je sais désormais comment modifier mon entraînement. Je suis de retour!"
Ian Young Gun: Is Back
"260" />
Ian Young Gun: Is Back - pictured here at the press launch with Ernesto Hoost Belfast's kickboxing star Ian Young has been given the green light to resume training, just weeks after
it was feared he had sustained a career threatening injury. The reigning British and European WKN super welterweight champion had been told he had a suspected crushed vertebrae.
The former football star was forced to drop out of training and competition until he was checked out by a specialist. Three weeks, he underwent an MRI scan and the news couldn't have been
better.
"I could have kissed the doc when he told me I had the all-clear," said 30-year old Young. "I really felt that I wouldn't be able to train again, never mind compete. And sport
has been at the centre of my life for as long as I can remember. That would have been too hard to take. But it appears it was a muscle problem that I was exasperating during exercises. I know now how
to deal with it and I'm back, back, back!"
Young has just returned from a fortnight in the sun with girlfriend Debbie to celebrate the great news – before he gets back into full training.
"I'm delighted for the lad," said his coach Billy Murray, boss of the ProKick Gym.
"He's totally devoted to the sport and trains as hard as anyone. We'll get Ian fighting fit then set up a couple of tough tests ahead of December 1 when he'll hopeful
challenge for a world title at the Waterfront Hall as part of the Seven Wonders promotion." Murray added, "Ian resumed light training in the last couple of days and so far so
good."
Envie d'essayer ?
Vous voulez découvrir à quoi ressemble un cours, à quoi ressemble la pédagogie de nos enseignants ? Aucun problème ! Nous sommes présents tout au long de l'année pour vous accueillir, vous guider et vous faire découvrir gratuitement toutes nos activités !
Venir faire un cours gratuitement