Carl Emey : Hwarang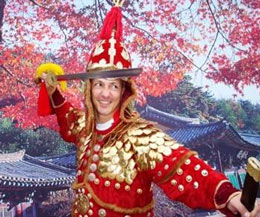 ---
Carl Emery a modern warrior.
Carl Emery: Hwarang

Carl Emery a modern warrior, Carl picture here in traditional dress of the Korea's warrior Knights – the Hwarang. Carl is in Korea at the World Martial Arts Convention – and some
would say he is a Knight in shining armour.
The Hwarang: Some believe that Hwarang-do and Japanese Bushido are similar way of warriorship, but the Hwarang movement pre-dates Bushido, and did not gain the political influence of the Samurai
class.
Envie d'essayer ?
Vous voulez découvrir à quoi ressemble un cours, à quoi ressemble la pédagogie de nos enseignants ? Aucun problème ! Nous sommes présents tout au long de l'année pour vous accueillir, vous guider et vous faire découvrir gratuitement toutes nos activités !
Venir faire un cours gratuitement