"SPORT IS YOUR GANG" gets launched in Switzerland…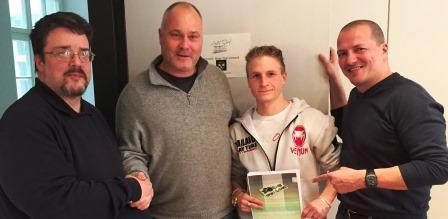 ---
"SPORT IS YOUR GANG" gets launched in Switzerland… At the annual Swiss Muaythai Federation general assembly, IFMA President Olivier MULLER has proudly congratulated Richard NEAL, Joel ANDERS and Carl EMERY who will develop and boost the IFMA "SPORT IS YOUR GANG" program in Switzerland. This is a major step forward towards helping kids and youths that would be tempted by criminal actions throughout the country. Even though Switzerland is not known as a major criminal hub, it is important to offer positive alternatives to potentially deviant youngsters by the practice of Muaythai.
"SPORT IS YOUR GANG" lancé en Suisse… C'est lors de l'assemblée générale annuelle de la Fédération Suisse de Muaythai, que le Président de l'IFMA Suisse 'Olivier MULLER a félicité Richard NEAL, Joël ANDERS et Carl EMERY qui vont dorénavant développer et superviser le programme IFMA « SPORT IS YOUR GANG » en Suisse. C'est un grand pas en avant afin d'apporter une aide aux enfants et jeunes qui pourraient être tentés par des actions délictueuses dans ce pays. Même si la Suisse n'est pas connue comme une pôle de criminalité enfantine, il est important de pouvoir offrir une alternative par la pratique du Muaythai, à des jeunes délinquants potentiels. "SPORT IS YOUR GANG" startet in der Schweiz… An der letzten Delegiertenversammlung des SMTV war es eine Ehre für Präsident der IFMA Schweiz Olivier MULLER die neu ernannten "SPORT IS YOUR GANG" Repräsentanten Richard NEAL, Joel ANDERS und Carl EMERY die in der Schweiz dieses IFMA Programm entwickeln werden zu gratulieren. Es ist ein grosser Schritt gegen Kinderkriminalität. Obwohl die Schweiz nicht stark mit Kinderkriminalität konfrontiert ist, ist es wichtig durch den Muaythai Sport potentiellen Jugendlichen delinquenten eine Alternative zu bieten.    
Envie d'essayer ?
Vous voulez découvrir à quoi ressemble un cours, à quoi ressemble la pédagogie de nos enseignants ? Aucun problème ! Nous sommes présents tout au long de l'année pour vous accueillir, vous guider et vous faire découvrir gratuitement toutes nos activités !
Venir faire un cours gratuitement